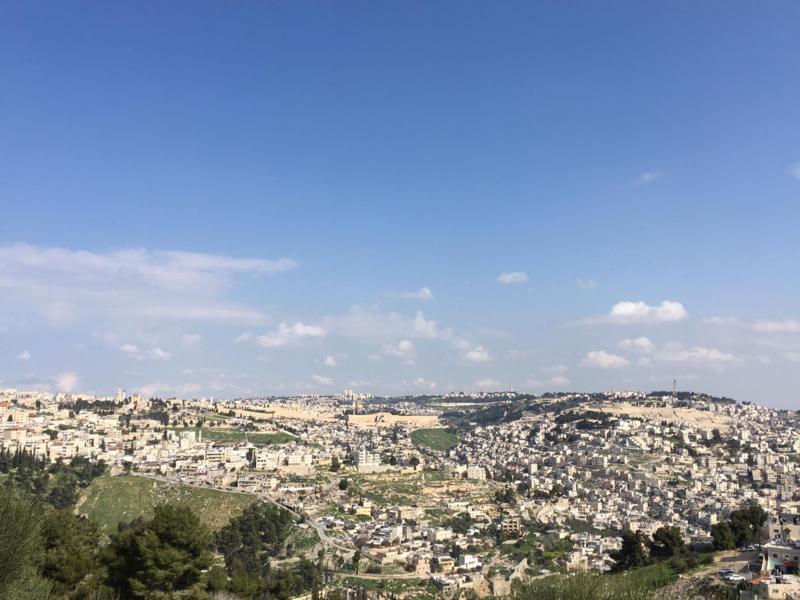 By Congressman Andy Barr
I recently returned to the nation of Israel—the United States' most important strategic ally—to get an update from U.S. and Israeli officials on the ever evolving security environment in the Middle East. It was my first visit to the region since 2015 when the Obama Administration was negotiating the Joint Comprehensive Plan of Action (JCPOA), also known as the Iran nuclear deal, and since the Trump Administration withdrew from that agreement and announced the relocation of the U.S. Embassy from Tel Aviv to Jerusalem.
My trip included meetings with Israeli Prime Minister Benjamin Netanyahu, Israel's Deputy Foreign Minister Tzipi Hotovely, top Israeli intelligence and defense officials, including the Israeli Defense Forces (IDF) and U.S. Ambassador to Israel David Friedman. During previous visits, I met with the leadership of the Palestinian Authority, including President Mahmoud Abbas.
I came home with a restored appreciation for Israel's Biblical past, I was inspired by stories from the Holocaust which continue to motivate the Jewish people's commitment to self-defense, and I left Israel with three major observations about modern-day security challenges—one about the threat from Iran, one about the resurgent trend of global anti-Semitism, and one about the need for a new way of thinking about the Israeli-Palestinian peace process.
First, American withdrawal from the JCPOA and reimposition of sanctions on Iran has materially improved the security situation for both Israel and the United States. As predicted by those of us who warned against President Obama's dangerous Iran deal, the months following its implementation witnessed a 40 percent increase in military spending by Iran, an acceleration of illicit ballistic missile tests by the regime and a surge in terrorist activity fueled by the Quds Force—the unit of Iran's Islamic Revolutionary Guard Corps responsible for its extraterritorial operations.
Despite these facts, so-called "experts" insisted that the JCPOA was "working" even though by its own terms, the agreement traded short-term and unverifiable curbs on Iran's nuclear program for an Iran with an internationally sanctioned, industrial scale nuclear weapons program in just a few years. Critics lambasted the Trump Administration while hailing China, Russia and Europeans for remaining in the flawed agreement, as if prioritizing commercial interests ahead of combating Iran's malign and destabilizing activities should be seen as a virtue.
But today, President Trump's decision to re-impose sanctions is paying off: the Iranian economy is in free fall and renewed economic pressure is degrading the capabilities of both Iran and its terrorist proxies, including Hezbollah in southern Lebanon, as well as Hamas and Palestinian Islamic Jihad (PIJ) in Gaza. This is not to say these terrorist organizations have been neutralized—far from it. But our allies in Israel did not mince words: President Trump's bold action to abandon the flawed JCPOA has reduced both the conventional and nuclear threat to Israel and the United States.
Second, anti-semitism around the world is on the rise, even in the new majority in Congress, and we must do more to stand with Israel to combat it. The failure of the House Democrat Leadership to censure freshman Representative Ilhan Omar (D-MN) for her repeated, offensive anti-Semitic tropes and prejudicial accusations is more than troubling. Of equal concern is the growing network of non-governmental organizations (NGOs), primarily in Western countries, which, in recent years, has engaged in an organized and well-coordinated boycott, divestment and sanctions (BDS) campaign against Israel. Jewish-owned businesses operating in Jerusalem and the West Bank are often targeted but the overall enterprise is designed to delegitimize the State of Israel.
These NGOs often claim to stand for Middle East peace, against Israeli "apartheid," or for justice for Palestinians in so-called "occupied" territory. But the reality is that many of these NGOs have direct financial ties to designated terrorist organizations, including Hamas and the Popular Front for the Liberation of Palestine (PFLP). And their boycott campaigns hurt not only Jewish businesses but also the many Palestinians who work for and with them.
The only real apartheid I witnessed was in communities under Palestinian Authority control, where it is forbidden for a Palestinian business owner to hire Jews and illegal for Palestinian property owners to sell land to Jews. Because of this, I intend to file legislation that will direct the Treasury Department to crack down on these NGOs which parade as human rights organizations solely to conceal their vile anti-Semitic goals.
Third, we need a new way of thinking about the path toward a lasting peace between Arabs and Jews in the Middle East. We must move past the elitist thinking that brought about the failed Oslo accord, the idea that politicians from outside Israel can impose a top-down forced division of Arabs and Israelis through a two state solution, that by ejecting Jews from settlements in the West Bank and forcibly removing 250,000 Jews from the eastern region of Jerusalem, we can somehow achieve peace for the Palestinians. The reality is that the removal of Jews from Gaza has been a disaster for the Palestinians, allowing terrorist groups like Hamas and the PIJ to take over and terrorize their citizens.
What does work is what I saw at the Barkan Industrial Zone in Samaria where, for thirty years, thousands of Jews and Arabs have worked side by side for a common purpose in for-profit businesses operating under the laws and protection of the State of Israel. There, I witnessed how the power of free enterprise and the rule of law, not forced segregation, can deliver peace, security and positive personal relationships among Muslims, Christians and Jews. Both the BDS movement and misguided two-state proposals denying Israel sovereignty over its Biblical homeland threaten the Barkan model for peace. I have shared this observation with the Trump Administration and will continue to urge a new way of thinking about the peace process.
In the end, my return visit to Israel reaffirmed my bedrock belief that a strong U.S.-Israel alliance is about more than just countering terrorism in a dangerous part of the world. It is about preserving and illuminating a powerful beacon of freedom, peace and hope for the world.